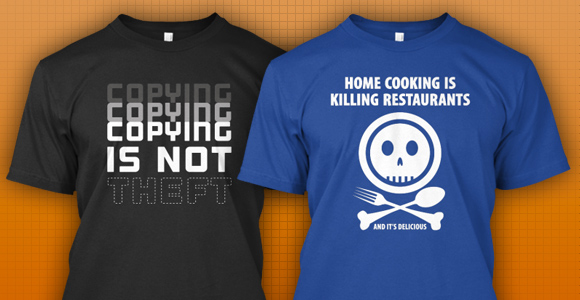 Copying Is Not Theft and Home Cooking Is Killing Restaurants are back »
Last week we brought back two of our 2016 T-shirt designs, and today we've got another two favorites returning to the Techdirt Gear store on Teespring: Copying Is Not Theft (a conversation starter, to say the least...) and Home Cooking Is Killing Restaurants.
In addition to our usual offerings (tees, hoodies, mugs and stickers) we've added a bunch of additional options for Copying Is Not Theft gear, at the expense of color choices (necessitated by the design). There are tank tops, long-sleeve tees, crew neck sweaters and a second option for women's tees. Also, in addition to our usual $23 premium men's tees, you have the option of a cheaper Hanes tagless tee for only $20. We don't know if this is something people prefer, and we're not sure how big the quality difference is (the premium tees are very nice) -- but if lots of people opt for the cheaper t-shirt and are satisfied with the quality, we'll consider making this available for more shirts in the future. Vote with your wallet and by letting us know in the comments or on Twitter!
Check out the Techdirt Gear store for these returning designs, and more »