(Click
here
for full version)
from the unencrypted-via-golden-key dept on Sunday, November 29th, 2015 @ 12:00PM
We've got a double-winner this week, with DannyB taking the first place spot for insightful and the second place spot for funny. The comment in question comes in response to Yahoo's sad and baffling decision to start blocking Yahoo Mail for Adblock users, and explains a better way of looking at it:
Yahoo has it BACKWARDS Yahoo says:

Please disable Ad Blocker to continue using Yahoo Mail.

What they mean is

Please disable Yahoo Mail to continue using Ad Blocker.

If that is not what they mean, then they will discover that this is what will happen.
In second place on the insightful side, we've got a response to Dianne Feinstein's recent attacks on encryption and their apparent contradiction of her desire for better cybersecurity. We blamed this on classic politician ignorance, but That One Guy was not prepared to be so generous in this case:
You mistake 'malice' for ignorance. She knows exactly what she's saying here, and while she's dishonest when she talks, she is consistent. She was for CISA because it would expand the ability of the various government agencies to spy. She's against encryption and security for the same reason in reverse, because it makes it more difficult for government agencies to engage in mass, indiscriminate spying on the public.

She's not an idiot, she's just a liar.
For editor's choice on the insightful side, we start with this week's post about the staggering scope of asset forfeiture in the US, where BentFranklin pointed out that it serves as a good case study for good intentions paving the road to hell:
In the 1980s we passed forfeiture laws to battle the largest criminals but look where we are now. If you want to know how the special powers we're giving government to battle terrorism will end up, just look at this program.
Next, we head to this week's other notable attack on encryption, this time penned by David Cameron's former speechwriter for the Telegraph, calling for the mythical golden key. One anonymous commenter was clearly fed up with this nonsense:
I want bullets that will only kill the bad guys and not the good ones.

I also want flash-bangs that won't go off into a room where a toddler is sleeping.

I want bulletproof vests that will open themselves when the bullet of a honest policeman protecting the community needs to take down a crook. (Corollary: OK, I know this one is really hard to do. The "honest" part, I mean...)

Oh, wait, this one this one is better. I want politicians that do what their voters want and not what their bribes tell them to do.

If we are going to ask for unicorns, at least make them with wings.
That editorial also happens to be the source of our first place comment on the funny side of things. The writer tried the same barbed flattery technique that so many have toyed with in this debate, lauding Silicon Valley as "the brightest people on the planet" who surely could mobilize their genius to achieve something, no matter how literally impossible it is. David speculated on the fallout from this particular monopoly:
Indeed, Silicon Valley cornered the market on bright people so thoroughly that the UK government had to make do with employing people like Clare Foges and David Cameron.
We've already had the second place winner for funny above, so now we'll move straight on to the editor's choice, where we start out on our post about the shocking decision by a Montana newspaper to retroactively make the real names of all commenters public. Among the many, many problems with this, there's the fact that Paul Alan Levy poked around the registration process and quickly determined that basically anyone can sign up as anyone with zero hassle. Atkray couldn't believe Levy would admit this so readily:
Worried about/for Paul Alan Levy

He has clearly admitted to hacking their website.





I hope he knows a good attorney.
Finally, we return to the post about the Yahoo Mail adblock-block, where Roger Strong used the format of another Yahoo property to sum up the situation neatly:
Yahoo Answers:

How to put the last nail in your own coffin while you're on the inside.
That's all for this week, folks!
---
from the thanksgiven dept on Saturday, November 28th, 2015 @ 12:00PM
Five Years Ago
The parade of horrors from the TSA continued this week, as the world continued reacting to the new enhanced security processes. One man stripped down in an attempt to avoid being groped and ended up under arrest for failing to complete the security process, while a botched pat-down left another passenger covered in urine from a broken urostomy bag. President Obama took a trip with the CEO of the company that makes the naked scanners and soon after defended the scans, while people trying to find out if the TSA had ever successfully stopped a terrorist were rebuffed in the name of national security. It was clear that the rollout of the new scanners was rushed, leaving the whole process limited in its effectiveness, but that didn't stop newspapers from snidely mocking objections to the TSA or the San Diego Airport from saying that recording the groping procedure is an arrestible offence. The TSA was even making people go through the process after their flights, but their demonstration of the groping in congress seemed to backfire, and they couldn't even keep a loaded gun magazine from being left on a plane and found by a child. The TSA's overall failure all stemmed from the same issue: the myth of perfect security.
Ten Years Ago
The fallout from the Sony rootkit fiasco was dying down this week in 2005, but it wasn't over. Texas' attorney general sued the company while the numbers showed that infected Sony CDs took a significant sales hit. One anti-virus firm came out to dispel notions that it might have colluded with Sony by explaining why it was unable to detect the rootkit sooner, and we asked a critical question: can any business based on copy protection survive?
TiVo apparently thought so, as it was expanding its offerings of content on iPods and PSPs at the cost of more robust DRM and content controls. This was a precautionary measure that didn't seem to work, as TV executives almost immediately began threatening to sue. Another new company was simply begging to be sued (though it's a shame that's the case) by selling iPods with preloaded video ripped from simultaneously purchased DVDs.
iTunes also hit an interesting milestone: it surpassed Tower Records in sales.
Fifteen Years Ago
I highlighted that last point because five years earlier, almost to the day, a study predicted that MP3s would replace CDs within five years. Of course there's lots to debate about what exactly iTunes' sales milestone meant, and what "replacing" CDs means, and so on — but it is still delightfully prophetic on the surface.
The ASIMO robot is an ongoing project that is widely known today, but it was this week in 2000 that Honda first unveiled it. Around the same time, the first self-contained bionic hand was completed in the UK. Carmakers were experimenting with driver-assisting cameras and, less glamorously, hotels were using technology to automate and secure their minibars.
Oh, and Amazon got knocked offline on Black Friday, which is some very unlucky timing.
Twenty-Eight Years Ago
Last week, we highlighted a famous authorized (but unfortunate) interruption of a broadcast signal. This week, we've got the anniversary of what is probably the most famous unauthorized intervention on the airwaves. It was on November 22nd, 1987 that a still-unidentified person dressed as Max Headroom hijacked two Chicago television stations for no immediately obvious reasons. To this day, it remains a minor mystery.
---
from the portability-maximized dept on Saturday, November 28th, 2015 @ 9:00AM
Google Cardboard is a wonderful way to make virtual reality more accessible (you can even grab one on sale in the Insider Shop) but it still has its limitations. Today we're looking at a new twist on smartphone-powered VR: the Figment phone case with built-in viewer.
The Good
The main limitation to Cardboard-style VR rigs is that they simply aren't as powerful, immersive or responsive as headgear like the Oculus Rift — but in exchange they are affordable and mobile, with the potential to make VR (and its cousin, augmented reality) a bigger part of everyday life. However, if there's one thing that holds them back from fulfilling that potential, it's that they are bulky and somewhat ugly — portable, but not convenient enough to carry with you everywhere, and not something you can leave permanently attached to your smartphone. The Figment offers a new approach: it foregoes the boxy enclosure and embeds the most critical part — the lenses — directly into an iPhone case. The eyepiece sits flush with the back of the phone until you flip it out, at which point an aluminum arm holds the lenses in place at VR viewing distance, immediately bringing a 360-degree 3D video or an augmented reality layer to life.
Putting the lenses so close at hand unlocks the power of this type of lightweight VR as both a tool and a more common way to consume content. Setting up your Cardboard rig to check out a 3D YouTube video is a bit of a hassle that you'll only commit to on occasion; but flipping an eyepiece out of your phone hardly adds any barrier at all, and suddenly you might find yourself opening up such content on a whim.
The Bad
Obviously, the lack of a full enclosure means the Figment doesn't deliver a fully-immersive experience, and may be more suited to AR than VR on the whole. But that's a sensible sacrifice in service of the goal of portability and convenience — if and when it moves past the other key issue of only currently being available for iPhones, and as the price of full headset rigs comes down, Cardboard may start to look like an unnecessary middle ground: not as convenient as the Figment, not as immersive as the Rift.
The Content
Whether you've got a Rift or a Cardboard, or plan to get a Figment, you'll need content to enjoy. With VR becoming more widespread, a growing number of creators are working to harness its unique capabilities, and there's another Kickstarter project underway that's worth checking out: Blackout, "a virtual glimpse into the lives of strangers". It's an original virtual reality documentary based on the idea of reading the minds of fellow commuters on a stalled subway train, in which you can look around and hear thoughts based on actual interviews with real people from around the world. This sort of experimentation is what makes a new medium like VR truly exciting, so be sure to check it out.
---
from the insider-shop dept on Friday, November 27th, 2015 @ 12:00PM
We never planned to have a Black Friday event, but we have been getting ready to hold big sale for a while now, and it just so happens to have serendipitously coincided with the (in)famous shopping event — so here it is! Starting today, we're clearing out all our existing Techdirt merchandise to make room for new offerings in the future. Until December 13th in the Insider Shop, we're offering huge discounts on all our shirts, hoodies and more in the Techdirt Gear Clearance Sale.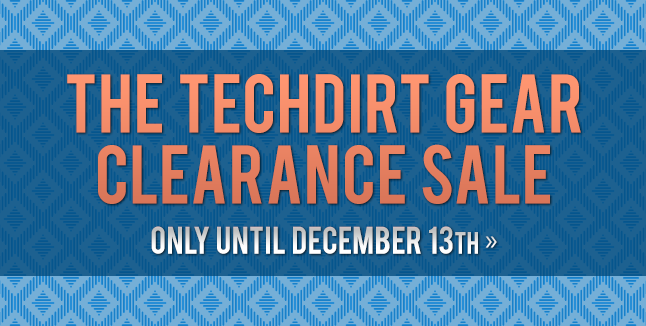 In addition to favorites like the DMCA t-shirt and the Seized t-shirt (both over 40% off), we've dug up some old Techdirt classics from before the Insider Shop: t-shirts featuring the original DMCA design and one of our many inside jokes for only $10 each. We've got extremely limited quantities and size availability in these designs, and some will likely never be offered again, so act quickly if you want to grab one! There's a bunch of Techdirt logo gear with huge discounts too.
We've also got some gear from Techdirt's think-tank, The Copia Institute: a logo t-shirt and keychain, and a ready-to-assemble Copia Cardboard kit for diving into the world of smartphone-powered VR.
The Techdirt Gear Clearance sale runs until December 13th, and all merchandise orders will be processed and shipped together on the 14th and 15th. Check out the sale today!
---
from the another-month,-another-stupid-patent dept on Wednesday, November 25th, 2015 @ 7:39PM
Plenty of businesses rely on third-party payers: parents often pay for college; insurance companies pay most health care bills. Reaching out to potential third-party payers is hardly a new or revolutionary business practice. But someone should tell the Patent Office. Earlier this year, it issued US Patent No. 9,026,468 to Securus Technologies, a company that provides telephone services to prisoners. The patent covers a method of "proactively establishing a third-party payment account." In other words, Securus patented the idea of finding someone to pay a bill.
It's been an interesting few weeks for Securus. First, the FCC announced that in response to price gouging by the industry, it would impose per-minute price caps on prison calls. Then The Intercept reported on a massive hack of recorded Securus calls: 70 million recordings, including many calls made under attorney-privilege, were leaked through SecureDrop. We'd like to add November's Stupid Patent of the Month award.
Securus' patent has a single independent claim with three steps. These steps are: 1) identifying a "prospective third-party payer"; 2) detecting a "campaign triggering event" (this can be something like an inmate being booked into a facility); and 3) "initiating a campaign to proactively contact" the prospective third-party payer using an "interactive voice response system." In other words, when an inmate gets booked into the local jail, Securus robocalls a family member to ask if they are willing to set up a pre-paid phone account.
There are two serious problems with this patent. First, the claims are directed to a mind-numbingly mundane business practice and should have been rejected as obvious. Obvious uses or combinations of existing technology are not patentable. Second, the claims are ineligible for patent protection under the Supreme Court's 2014 decision in Alice v. CLS Bank—this is a recent Supreme Court decision that holds that an abstract idea (like contacting potential third-party payers) doesn't become eligible for a patent simply because it is implemented using generic technology. That the system failed to register either of these defects shows deep dysfunction.
In a sane world, a patent examiner would apply common sense and reject Securus' application out of hand. It includes no technological innovation (it notes that all of the relevant phone technology already exists); instead, it simply describes a basic set of steps for contacting potential third-party payers. Unfortunately, the Federal Circuit has essentially beaten common sense out of the patent system. For example, it recently overruled an examiner who had relied on common sense for the basic fact that electrical plugs have prongs. This repudiation of common sense is how we get patents on filming a yoga class or white background photography.
To the patent examiner's credit, he did originally reject all of Securus' claims as obvious based on a combination of earlier publications regarding third-party payment accounts. Securus appealed that rejection to the Patent Trial and Appeal Board (PTAB). The PTAB overruled (PDF) the examiner. In a victory of hyper-formalism over rationality, the PTAB said that the examiner had not giving sufficiently explicit reasons for combining the teachings of prior publications.
What about Alice v. CLS Bank? Securus' claims are just an abstract idea implemented on generic technology. They should therefore have been found ineligible under the Supreme Court's new standard. In fact, when it overruled the examiner on obviousness grounds, the PTAB explicitly noted (in a footnote) that the examiner "may wish to review the claims for compliance under 35 U.S.C. § 101" in light of the Alice decision. Yet the Patent Office ignored this suggestion and rubber stamped the claims.
We have repeatedly urged the Patent Office (here, here, and here) to do a better job applying Alice to pending applications. It is very disappointing to see patents like this one being granted months after the Supreme Court's ruling. Even invalid patents are very expensive to defeat in court after they've issued. Securus already has a captive market for its services. It does not need the monopoly power of a stupid patent as well.
Reposted from the Electronic Frontier Foundation's Deeplinks blog
---
---