Free Speech Pro-Tip: You Can Yell Fire In A Crowded Theatre
from the new-gear-from-techdirt dept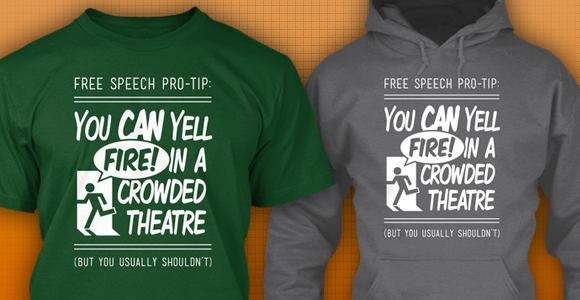 New gear from Techdirt, now available on Teespring »
No discussion about free speech gets very far without someone busting out the idea that "you can't yell fire in a crowded theatre". It's a phrase that's irritated actual free speech experts for years: it adds nothing to the discussion, and it's not even true — there are plenty of times when you can (not the least of which being if the theatre is actually on fire!) Moreover, the phrase itself is a relic of an old, awful, and overturned Supreme Court ruling that put someone in jail for criticizing the mandatory military draft in the First World War. The inimitable Ken White dug into the phrase's uselessness and horrible legacy in a 2012 Popehat post and, more recently, an episode of the Make No Law podcast.
And now you can help fight back against this dangerous idea with new gear from Techdirt! The Free Speech Pro-Tip is available on t-shirts, hoodies, mugs and stickers from Teespring.
Order yours today, and be sure to check out our storefront for other great Techdirt gear!

Thank you for reading this Techdirt post. With so many things competing for everyone's attention these days, we really appreciate you giving us your time. We work hard every day to put quality content out there for our community.
Techdirt is one of the few remaining truly independent media outlets. We do not have a giant corporation behind us, and we rely heavily on our community to support us, in an age when advertisers are increasingly uninterested in sponsoring small, independent sites — especially a site like ours that is unwilling to pull punches in its reporting and analysis.
While other websites have resorted to paywalls, registration requirements, and increasingly annoying/intrusive advertising, we have always kept Techdirt open and available to anyone. But in order to continue doing so, we need your support. We offer a variety of ways for our readers to support us, from direct donations to special subscriptions and cool merchandise — and every little bit helps. Thank you.

–The Techdirt Team
Filed Under: 1st amendment, fire in a crowded theater, free speech