Infographic: People Will Pay To Support Creators, Even When Free Is An Option
from the reason-to-buy dept
Back when we first launched the Insider Shop, we made two PDF ebooks available at any price you choose: Mike's Approaching Infinity (on new business models and the economics of abundance) and our Sky Is Rising report on the state of the entertainment industries. More recently, we launched three fiction titles by our own Tim Geigner—Digilife, Echelon and Midwasteland—also available on a pay-what-you-want basis. They were an instant hit, and we're in the process of preparing new ePub versions.
The thing we noticed right away was that a lot of people were choosing to pay, even though you can download all the books for free. Almost half of all book downloads were paid, with most people choosing the default $5 per book—even when buying four or five books at once—and several going above and beyond, with a few even paying $20 for a single title.
At this point, there's plenty of evidence that people will gladly, even eagerly, pay to support creators despite being given the option of getting something for free—and we're glad to add the success of our Insider Shop ebooks to the list. For those who want a closer look at the numbers, I put together a quick infographic: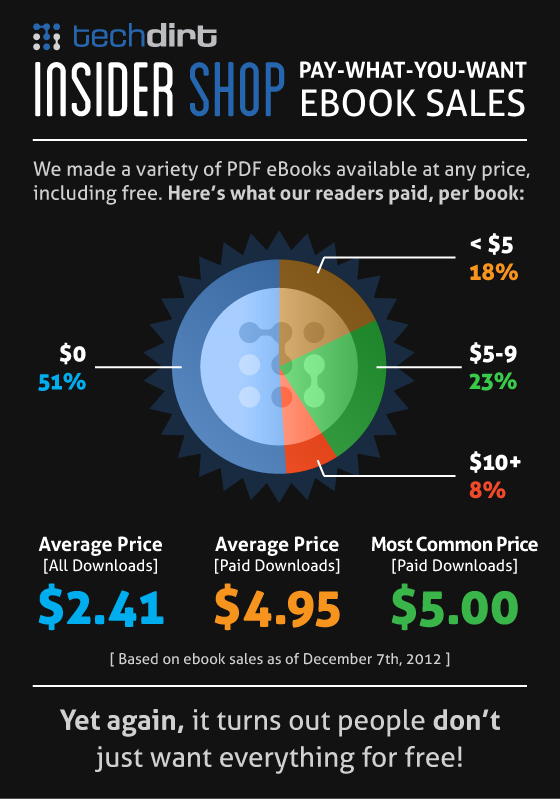 Embed This:

Thanks to everyone who has downloaded our ebooks, whether you paid $0 or $20 or anything in between! If you haven't gotten your copies yet, head on over to the Insider Shop and check them out.

Thank you for reading this Techdirt post. With so many things competing for everyone's attention these days, we really appreciate you giving us your time. We work hard every day to put quality content out there for our community.
Techdirt is one of the few remaining truly independent media outlets. We do not have a giant corporation behind us, and we rely heavily on our community to support us, in an age when advertisers are increasingly uninterested in sponsoring small, independent sites — especially a site like ours that is unwilling to pull punches in its reporting and analysis.
While other websites have resorted to paywalls, registration requirements, and increasingly annoying/intrusive advertising, we have always kept Techdirt open and available to anyone. But in order to continue doing so, we need your support. We offer a variety of ways for our readers to support us, from direct donations to special subscriptions and cool merchandise — and every little bit helps. Thank you.

–The Techdirt Team
Filed Under: ebooks, free, pay what you want, support