Announcing: Our New Sky Is Rising Report!
from the digging-in dept
A year ago, we announced our
Sky is Rising
report, sponsored by CCIA, looking at the state of the global entertainment industry over the last decade -- and seeing that, despite the doom and gloom that we heard from some legacy players, the story actually showed tremendous opportunity. There was massive growth in content being produced, growth in revenue (though often distributed differently than through traditional gatekeepers) and tremendous new opportunities for content creators. It also found that, contrary to the claims that people just wanted content for free, people were spending more on entertainment. All in all, the data showed a much more positive picture than some have been spinning. That said, it did also highlight many of the challenges that content creators faced, with two key ones being important: the massive growth in content meant much more competition for consumers' dollars, while the changing technology and services landscape meant that the specific road map was a lot less clear.
This year, we're back with our second edition of the report,
The Sky is Rising Two
, once again, kindly sponsored by CCIA. This time around, we focused much more specifically on a few key countries in Europe: Germany, France, the UK, Italy, Russia and Spain. After the first report, we received some very reasonable questions about whether or not the global data reflected the situation across every country, or if one or two places (such as the US) might dominate and distort the picture in other countries. We chose to look at six of the larger economies in Europe individually, to see what we might find, and that's the focus of the second report. Once again, we've got a nice infographic that summarizes many of the findings: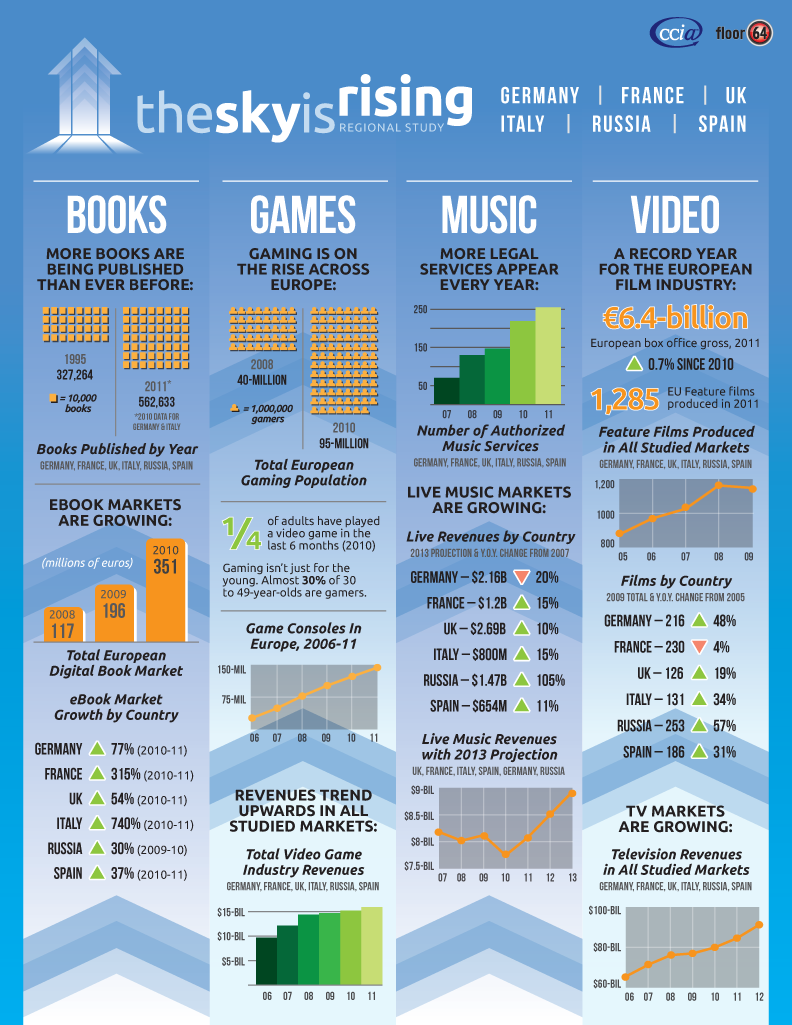 What we found this time was that, as expected, there are some big differences within different countries -- with some doing better in certain areas, and some struggling in other areas. But, on the whole, the
general
picture was the same. The various industries were growing. The amount of content being created was growing. The number of new services enabling new business models and new ways to distribute content were growing massively. It's an exciting time, and the key point is, once again, that there is no "conflict" between tech and content. Rather the two work hand in hand together quite well, with new services enabling all sorts of growth opportunities for artists.
Of course, the same caveats that we saw last year still apply. There is more competition, and the path to success may be less clear. So for individual creators, it may seem like a much greater struggle -- though their overall slate of opportunities continues to increase. Similarly, with new services and new opportunities, there remain challenges for the legacy players (especially if they had gatekeeper roles) to remain relevant. Please check out the full report below:
Also, since the report covered countries where English was not the primary language, we also had the report translated into German, Spanish, French, Italian and Russian. You can find each of those versions at the bottom
of the Sky is Rising 2 page
.

Thank you for reading this Techdirt post. With so many things competing for everyone's attention these days, we really appreciate you giving us your time. We work hard every day to put quality content out there for our community.
Techdirt is one of the few remaining truly independent media outlets. We do not have a giant corporation behind us, and we rely heavily on our community to support us, in an age when advertisers are increasingly uninterested in sponsoring small, independent sites — especially a site like ours that is unwilling to pull punches in its reporting and analysis.
While other websites have resorted to paywalls, registration requirements, and increasingly annoying/intrusive advertising, we have always kept Techdirt open and available to anyone. But in order to continue doing so, we need your support. We offer a variety of ways for our readers to support us, from direct donations to special subscriptions and cool merchandise — and every little bit helps. Thank you.

–The Techdirt Team
Filed Under: data, europe, sky is rising