Hollywood Hackers Vs. Reality
from the CIP-#1,831-for-why-the-internet-is-scary dept
Perhaps no single "demographic" is more misunderstood (and feared -- especially post-SOPA debacle) by Hollywood than "The Hacker." In the hands of the movie machine, hackers are portrayed as fast-talking (and fast-typing) young men (and very occasionally, women) with unfortunate hairdos, huddled around multiple screens making use of thoroughly impractical GUIs, all the while spouting a confounding mixture of instantly-outdated slang and acronyms.
Saturday Morning Breakfast Cereal breaks this down in an
incredibly concise and incredibly awesome two-panel comic
: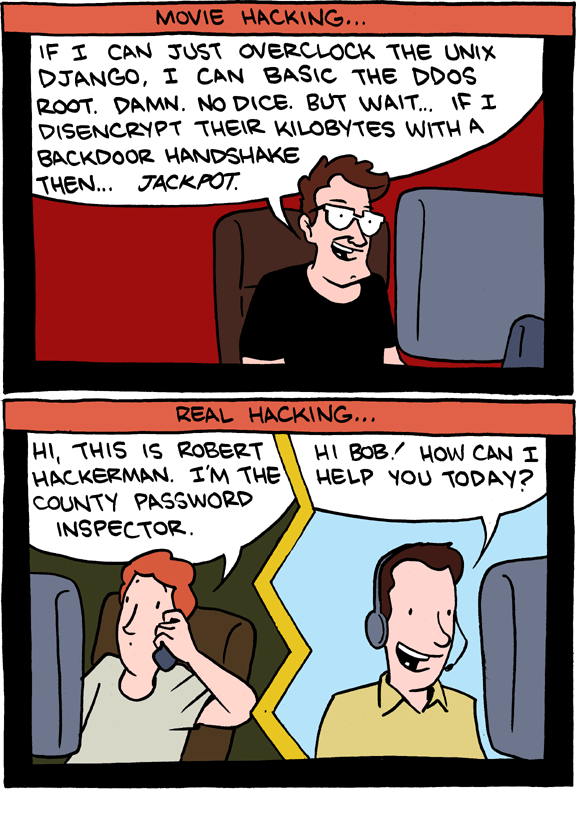 Maybe Hollywood uses this creative license to keep its fears at bay. It's got IT departments full of young men (and women) with unfortunate hairdos to handle anyone trying to DDOS its kilobytes, allowing it to breathe easy and sleep the deep sleep of the blissfully unaware. To confront the fact that anyone with half-decent social engineering skills could talk them and their underlings out of sensitive information is probably way too alarming.

Thank you for reading this Techdirt post. With so many things competing for everyone's attention these days, we really appreciate you giving us your time. We work hard every day to put quality content out there for our community.
Techdirt is one of the few remaining truly independent media outlets. We do not have a giant corporation behind us, and we rely heavily on our community to support us, in an age when advertisers are increasingly uninterested in sponsoring small, independent sites — especially a site like ours that is unwilling to pull punches in its reporting and analysis.
While other websites have resorted to paywalls, registration requirements, and increasingly annoying/intrusive advertising, we have always kept Techdirt open and available to anyone. But in order to continue doing so, we need your support. We offer a variety of ways for our readers to support us, from direct donations to special subscriptions and cool merchandise — and every little bit helps. Thank you.

–The Techdirt Team