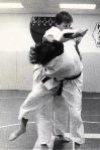 About Walks-In-Storms
I'm a scientist and inventor, late retired from the military and a second career as a forensic investigator (I experimented by flying suspect aircraft, descending into collapsed mines, diving to inspect fallen bridges, "trolling" high violent crime areas, and infiltrating government offices, hospitals, and other places where wrong-doing or negligence were suspected but otherwise unprovable. I wrote the !st (1959) and 2nd papers having to do with S.W.A.T., made among the first (1959 - Hungary), (successful) hostage-takedown rescues, and originated and tested in real competition the "Twenty-One" system for physical control of violently resisted arrest.

It was I who first (1977) began outfitting citizens with movie camera and video equipment for the purpose of monitoring and proving police and public official misconduct. Spread of the idea has been among the most gratifying successes of my rebellious life. "Walks-In-Storms, incidentally, is the name given me by Native American friends back in Iowa.

A six-time published author, I'm writing a book ("Land of the Free - U.S. History During the Life of One Citizen").