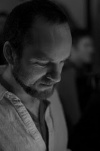 About scott mc laughlin
I'm an Irish composer and music lecturer based in Huddersfield UK.

My music is concerned with the repetition of limited materials, often microtonal and repetitive. See my website - www.lutins.co.uk


I write alt-folk-tronica-(insert genre here) music with Arron Hurley as Phsntom Dog Beneath the Moon. I play with saxophonist Iain Harrison in a sax/laptop duo called Apropos.