Winklevoss Twins Still Trying To Get More Of Facebook
from the oh-come-on dept
There have been a whole series of claims from others that they had the "original idea" for Facebook, but as we've explained over and over again, the idea part was
pretty meaningless
. There were plenty of other, competing social networks at the time Facebook was founded. What made Facebook a success was not the original idea, but how the company executed and changed (quite a lot) over time, adapting to the market. And, yet, the lawsuits continue. The most famous, of course, was the one filed by the Winklevoss twins, which is at the heart of the recent fictionalized movie about Facebook. As we covered here, the twins
sued
, claiming that Zuckerberg took the idea from them and their company ConnectU. Over the years, more evidence has come out that suggests Zuckerberg may have been kind of slimey in dealing with the twins, but it still didn't suggest that the twins actually deserved any part of Facebook. Even so, in 2008 (as is covered in the movie), the company
settled
the lawsuit, and dumped stock worth tens of millions on the twins... for not doing anything.
Given all that, we were amazed later that year when the twins
sought to back out of the settlement
, in what appears to be a clear case of "settlers' remorse." Joe Mullin has the latest
on the twins' attempt to go through this whole thing all over again
, and notes how ridiculous the whole situation is:
What makes CU's drawn-out litigation all the more remarkable is that Facebook has to be one of the most patently "unstealable" ideas out there. Facebook wasn't the first internet social network and, at the time of the suit, wasn't profoundly different than those that came before it. Facebook's success isn't due to the idea of a social network, but the skillful execution of that idea--combined, of course, with some hard work and some very lucky timing.
As Mullin points out, however, these kinds of cases have increased in recent years, as the culture and legal framework we've created, that overvalues ideas and undervalues execution, leads people to think that just because they had an idea -- even if they had nothing to do with the execution -- they deserve a cut from those who did execute. While we've already posted this
before
, now seems like a perfect time to repost the recent
recent xkcd
comic on this concept: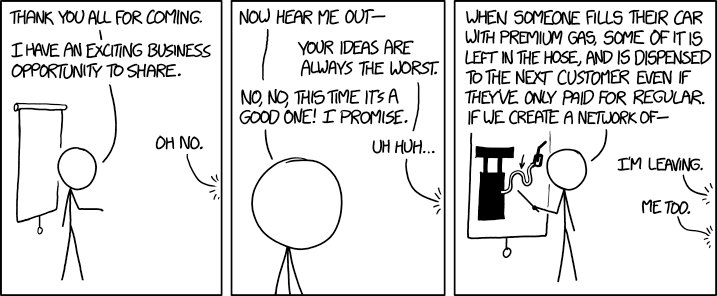 Thank you for reading this Techdirt post. With so many things competing for everyone's attention these days, we really appreciate you giving us your time. We work hard every day to put quality content out there for our community.
Techdirt is one of the few remaining truly independent media outlets. We do not have a giant corporation behind us, and we rely heavily on our community to support us, in an age when advertisers are increasingly uninterested in sponsoring small, independent sites — especially a site like ours that is unwilling to pull punches in its reporting and analysis.
While other websites have resorted to paywalls, registration requirements, and increasingly annoying/intrusive advertising, we have always kept Techdirt open and available to anyone. But in order to continue doing so, we need your support. We offer a variety of ways for our readers to support us, from direct donations to special subscriptions and cool merchandise — and every little bit helps. Thank you.

–The Techdirt Team
Filed Under: execution, ideas, ownership, winklevoss
Companies: connectu, facebook