from the The-Public-Domain-should-be-Public dept
Cross-posted from ninapaley.com
Dear Internet,
You know what should be really easy to find online? Good quality,
Public Domain
vintage illustrations. You know, things like this:
I found this on
Flickr
, where someone claims full copyright on it. That's
copyfraud
, but understandable because Flickr's default license is full copyright (all the more reason to ignore copyright notices!). But copyfraud isn't not the main problem. The main problem is that images like this are painfully difficult to find online, especially at high resolutions (and this image is only available at medium resolution - up to
604 pixels high
, which is barely usable for most purposes but higher than much of what you find online).
The images are out there - and with zillions of antique books being scanned, their vintage illustrations are being scanned right along with them. But the images are buried in the text, and often the scan quality is poor. Images should be scanned at high quality, and tagged for searchability.
Are archives ignoring the value of images?
Take the
American Memory archive
of the Library of Congress. Lots and lots of historical documents here, but no way for me to find an image of, say, a horse.
Most
book
-
scanning
projects focus on texts, not illustrations. Many interesting and useful illustrations are buried within these scans, uncatalogued and inaccessible. Scan quality is set for text, not illustrations, so even if one can find a choice illustration buried within, its quality is usually too low to use.
Archive.org
is great (I love you, archive.org!) but
does not have an image archive
. Still images are not among their "Media Types" (which consist of Moving Images, Texts, Audio, Software, and Education). So I went spelunking through their texts, starting with "American Libraries," and searched for something easy: "
horse
." Surely I could find a nice usable etching of a horse in there somewhere. I eventually found "
The Harness Horse
" by Sir Walter Gilbey, from 1898.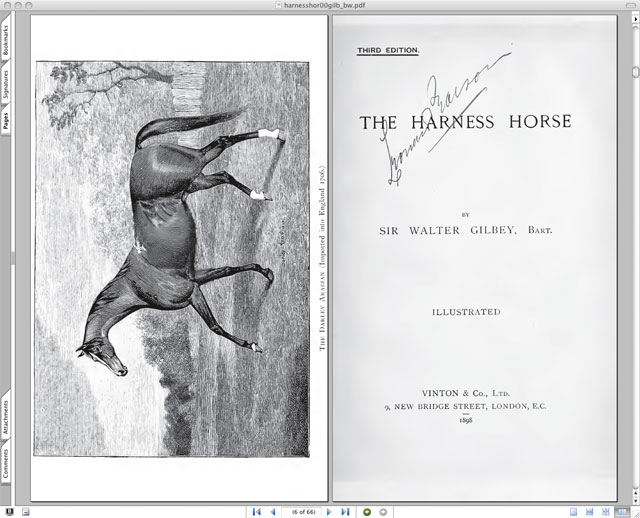 Nice illustrations! Can I use them? Unfortunately, no. The book is downloadable as PDF and various e-publication formats, but when I try to extract the illustrations, I get a mess (which you can see,
after the jump
):