stories filed under: "free"

from the free-is-bad dept
Joe Betsill
alerts us
to an
an amusing comic from theWAREHOUSE
that seems fitting around here:
from the might-make-for-an-interesting-case dept
Here's an interesting story of a self-published Amazon ebook author, James Crawford, who
discovered that Amazon "accidentally" gave away his ebook for free
over 6,000 times, and then refused to pay him any royalties. The "mistake" was really a bad algorithm. Apparently when you sign up for Amazon's platform, the company makes you promise to give them the best price, and if they find you offering the same thing cheaper elsewhere, they have the right to automatically lower your price. But, here, Amazon's algorithm mistook a "sample three chapters" that was being given away free on the Nook platform, as if it were the whole book. So it automatically dropped Crawfod's ebook price from $5.99 down to $0. It took weeks to sort out, and by the time that happened, 6,116 people had downloaded the free version.
Amazon then refused to pay any royalties, saying that under its contract, it's absolved from having to pay royalties for such mistakes. While that may be true, I do wonder if there's actually a copyright claim there. Here's another situation where the murky boundary between sales and licenses gets strange. After all, Crawford appears to be technically licensing his work for Amazon to distribute with a specific condition: that it be priced at $5.99 with certain royalties going back to Crawford. Offering it free seems like a clearcut case of an unauthorized distribution, which could be open to a copyright claim.
That said, I agree with the point that many have made to Crawford, that he's probably much better off just using this experience for the publicity, and building on that, rather than suing. Suing would be expensive and uncertain. And, it actually could harm sales, as people often don't like the litigious. Readers might be more willing to support Crawford directly after just hearing his story -- and seeing that he was a good sport about it, who could recognize that perhaps this mistake could lead more readers to his work, and those readers may bring in other (paying) readers in the future. Still, it's yet another case where the difference between physical sales and digital "licensing" becomes abundantly clear.
from the duh dept
Back in March, we thought it was pretty silly that the Newspaper Guild and the National Writers Union were
calling for a boycott
of the Huffington Post, because some of the writers who had agreed to post on the site for free no longer liked the deal. As we said at the time, if you think that writing for free undermines your profession, you have a pretty simple solution: don't do it. But don't agree to write for free and then bitch about how it's unfair. In the end, we suspected that the same reasons why people had written for the Huffington Post in the first place (in order to share their thoughts to a wider audience) would continue to win out.
It appears that is absolutely the case. The National Writers Union has now admitted that
it's dropped the boycott
, because, well, no one cared. What's amusing is that rather than quietly dropping it, they actually put out a press release saying they were "withdrawing the boycott" which almost no one paid attention to in the first place.
from the that's-not-helping dept
It's amazing how frequently legacy entertainment industry companies look to screw up a good thing. Cartoon Network and its alter ego Adult Swim launched iOS apps in the last year that received a ton of praise for offering
full streams of shows
in their free apps. This made them useful apps for plenty of fans of cartoons (and, really, who isn't a fan of cartoons?). But, it appears things have changed. A practicing intellectual property lawyer, who prefers to remain anonymous (he apparently doesn't want the world to know of his cartoon obsession), alerted us to the news that the two apps have now
removed
the free streams. The deal is you can now only get free streams
if you subscribe to a partner cable/satellite provider
. In fact, they're even
pitching it
as if they're doing something new -- totally ignoring that the free streams used to be available for everyone, and now are limited to just people who have cable/satellite subscriptions.
Yes, this is weak attempt by everyone to try to hold back the flood of people
cutting the cord
-- but it's the absolute wrong way to go about it. Rather than providing
more value
, they're trying to
take away value from others
, and in the process pissing off a lot of people. It's not going to make cord cutters any more interested in re-subscribing to cable or satellite TV, but may make the Cartoon Network and Adult Swim lose some of its most valuable audience -- the young, employed, well-educated folks that advertisers crave... who have been leading the charge in cutting the cord. Here's what the attorney wrote to me:
I do not have cable. and, just to make it clear, I am a late 20-something, practicing intellectual property attorney, and I cut my cable not because the economy is bad, but because it is an outrageously overpriced, single direction service that forces me to choke down a ton of content I do not care about, in addition to forcing me to watch ads.

I was happy to watch my favorite cartoons, for free, but with ads, ostensibly, the profits of which go directly to the stations with less dilution than if they had been broadcast, but now I will probably go back to doing what I did before my iPad: not watch stuff, wait for it to come out on DVD and Netflix/Qwikster it, or, potentially, even 'infringe' it.
The way to compete in this market is to add value, not take it away. That just pisses people off.
from the well,-duh dept
We've talked about how the entertainment industry is really good at
killing the golden goose
every chance it gets. Any time some new online service actually gets people to move away from infringement, the industry freaks out and complains that they're not making
enough
money from the service and then tries to kill it. For example, the TV folks have made it clear that they'd
like to kill Hulu
even though they own it
. They're so worried about "cannibalizing" the old revenue streams, that they're killing off the new ones as well. We
predicted
this would happen a few years ago, and it's amusing to see it happening in real time.
Because of the conflicts between what Hulu management (who do seem pretty clued in) and their ownership wanted to do with the company, Hulu was recently put up for sale. But, now it's coming out that the bids Hulu is receiving are much lower than the owners want -- and
it's because they've made it clear they plan to cut off all free content from Hulu
:
But the bidders all figured out pretty quickly that the TV companies who own Hulu now want to phase out free ad-supported content completely. So as soon as the current set of Hulu contracts expire in a couple of years, it would be back to the negotiating table.
Because of that, no one was willing to bid over $2 billion -- and the TV guys (of course) think it's worth a lot more than that, even as they're trying to kill it. Well, one exception: apparently Google was willing to pay closer to $4 billion... but it would only do that under certain conditions (which likely involve getting the TV guys to renew/guarantee future deals). So congrats, backwards looking TV guys, not only are you killing Hulu, you're killing the goodwill you build up via the company so you can't even cash out on that.
from the not-so-awful dept
We were amazed a few years ago when the RIAA, with the help of law enforcement, started
going after
DJs who
made mixtapes
, even though those same mixtapes were considered a huge part of the promotional infrastructure of certain parts of the music world (mainly hip hop, but certainly elsewhere as well). Of course, after shutting down and arresting a bunch of mixtape DJs, a bunch of artists just started making and releasing their own damn mixtapes, and doing so for free online. And even though we still see some stories of the RIAA
going after
"officially released" mixtapes, it seems that
even the labels are starting to recognize that free mixtapes help promote artists
and aren't worth freaking out about:
"The game favors people that can produce quality music and then turn right around and produce more quality music-which is not a given," Atlantic Records VP of A&R Zvi Edelman says. His signee, Wiz Khalifa, leveraged free, original mixtapes like 2010's "Kush & OJ" and 2011's "Cabin Fever" into the building of a dedicated fan base that helped, along with an intensive touring strategy, make his Atlantic/Rostrum Records debut, "Rolling Papers," one of the few hip-hop debuts to sell more than 500,000 copies (it's now at 570,000, according to Nielsen SoundScan) in 2011.

A batch of newcomers -- such as J. Cole, Big Sean, Dom Kennedy, Mac Miller and Smoke DZA -- has adapted to the consumer demand for free, original rap music. The philosophy is often described this way: As a reward for artists remaining loyal to them (by giving away original music), fans return the favor by buying concert tickets, merchandise and "real" albums from record labels. The result is a give-and-take relationship that keeps rappers in control of their brand and marketing, and iTunes playlists full of free albums disguised as "mixtapes." The payoff is an active fan base, which labels and management hope stimulates retail purchases.
This might be about as close as you can come to big record labels officially admitting that free music actually has value that is monetized elsewhere. But, still, apparently, we need special new laws to shut down the very same marketing that they now want to use to build a stronger fan base.
from the not-up-to-him dept
It's been clear for a while that Lady Gaga
understood the power of free music
, using it in a variety of promotions, saying she
didn't care
if people downloaded her music, because it only got more people to go see her live and emphatically saying she thinks albums
cost way too much
. She thought that $0.99 was a better price for an entire album, rather than per song.
Now, as Robw was the first of a few of you to point out, her manager has said that, if it were up to him, he'd
give her next album away totally free
-- with the focus on getting it as much exposure as possible, knowing full well that he'd make that up through greater fan support elsewhere.
"If it was up to me, I'd give away the next album and put it on every handset that I can put it on, to get that scale," he said. "You can't be scared to fail. Sometimes we're going to get big results, and sometimes you learn a lesson, make an adjustment and move on."
Of course, some will immediately point out that since it's
not
up to him, such comments are meaningless. He can say that and "pander" to fans, even if he doesn't really believe it. But, of course, there's no reason to believe he doesn't mean it. And in an era when so many top musicians are being pressured to toe the industry line about how evil "free" is, it's certainly nice to see one of the biggest (if not
the
biggest) pop stars in the world, and her management, recognizing publicly that the business model these days isn't in selling music directly.
from the oh-really? dept
Scott Wetterling was the first of a bunch of you to send in one of the many stories about how when 7-Eleven offers free slurpees,
their sales of slurpees goes up
. They say this is "odd behavior," but I don't buy that all. Free has been a compelling part of getting people to buy stuff for ages, even if that involves buying what is free. We've certainly seen this in other fields as well, such as when Cory Smith took his free MP3s off of his website... and immediately
saw his iTunes sales plummet
. People berate the use of free because they don't understand how it works. And, then, when it does work, they describe the behavior as "odd." Perhaps it's not odd at all once you realize how it works.
from the tech-transfer dept
We've talked in the past about the whole concept of
tech transfer
offices at universities. This was an idea that became popular a couple decades back, that universities, with all their researchers, could create a
profit center
by licensing or selling the patents that come from university research. The reality is that this has been a dismal failure. Most universities (like many patent holders who aren't actually building products in the marketplace) totally and completely overvalue their patents, making it completely uneconomical for anyone to license the patents. In the end, this has made the vast majority of tech transfer offices
cost centers
rather than profit centers. They hired lots of people, which is expensive, and they haven't seen much of a return on it.
Even worse, this focus on
locking up
knowledge and research from universities has been disastrous on actual advancement and the spreading of knowledge, which many of these universities claim is a key goal. Professors are told not to share results or data or plans with professors at other universities, for fear of "losing out" on a patent. The whole academic culture of sharing and building on each others' knowledge is held back tremendously. It's a huge shame.
Thankfully, a few universities are realizing this and are starting to push back. Last year, we noted that the University of Glasgow was
freeing up most of its "intellectual property,"
for anyone who could use it. And, now, hrusha alerts us to the news that the University of Copenhagen (known as KU) is
offering free licenses to anyone who can present a "credible" plan
for bringing a product to market within 3 years.
It's not a totally open and free system, but it's certainly better than most. The encouragement on commercialization will hopefully help get the practical implications of the research out into the marketplace quickly. I'm not so sure how they determine what is and what is not a "credible plan," so hopefully they err on the side of granting such licenses whenever possible. Hopefully more and more universities will begin to realize that locking up research and expecting to get paid for it is a dead end road that goes against the core principles of most institutes of higher learning.
from the principles dept
Adapted from a talk and slide show I presented at the Open Knowledge Conference in Berlin on July 1, 2011. --NP
Crossposted from ninapaley.com
Free software is a matter of the users' freedom to run, copy, distribute, study, change and improve the software. More precisely, it means that the program's users have the four essential freedoms:

The freedom to run the program, for any purpose (freedom 0).
The freedom to study how the program works, and change it to make it do what you wish (freedom 1). Access to the source code is a precondition for this.
The freedom to redistribute copies so you can help your neighbor (freedom 2).
The freedom to distribute copies of your modified versions to others (freedom 3). By doing this you can give the whole community a chance to benefit from your changes. Access to the source code is a precondition for this.

-- The Free Software Definition
These are the
Four Freedoms of Free Software
. They are foundational principles, and they are exactly right. They have served and continue to serve the Free Software Movement very well.
They place the user's freedom ahead of all other concerns.
Free Software is a principled movement, but Free Culture is not – at least not so far. Why?
1. The No Derivatives (-ND) Restriction
If you tinker with software, you can improve it. You can also break it or make it worse, but the
Freedom to Tinker
is one of the foundational 4 Freedoms of Free Software. Your software may also be used for purposes you don't like, used by "bad people," or even used against you; the Four Freedoms wisely counsel us to GET OVER IT.
Unfortunately, The
Free Software Foundation
does not extend "Freedom to Tinker" to Culture:

Cultural works released by the Free Software Foundation come with
"No Derivatives"
restrictions. They rationalize it
here
:
Works that express someone's opinion—memoirs, editorials, and so on—serve a fundamentally different purpose than works for practical use like software and documentation. Because of this, we expect them to provide recipients with a different set of permissions (notice how users are now called "recipients," and their Freedoms are now called "permissions" --NP): just the permission to copy and distribute the work verbatim. (link)
The problem with this is that it is dead wrong.
You do not know what purposes your works might serve others.
You do not know how works might be found "practical" by others. To claim to understand the limits of "utility" of cultural works betrays an irrational bias toward software and against all other creative work. It is anti-Art, valuing software above the rest of culture. It says coders alone are entitled to Freedom, but everyone else can suck it. Use of -ND restrictions is an unjustifiable infringement on the freedom of others.
For example, here I have violated the Free Software Foundation's No-Derivatives license:
The Four Freedoms of Free Culture:

1. The freedom to run, view, hear, read, play, perform, or otherwise attend to the Work;
2. The freedom to study, analyze, and dissect copies of the Work, and adapt it to your needs;
3. The freedom to redistribute copies so you can help your neighbor;
4. The freedom to distribute copies of your modified versions to others. By doing this you can give the whole community a chance to benefit from your changes.
(link)
Without permission, I've created a derivative work: the Four Freedoms of Free Culture. Although I violated FSF's No-Derivatives license, they violated Freedoms # 2 and 4, so we're even.
1. The Non-Commercial (-NC) Restriction
The
Freedom to Distribute
Free Software is essential to its success. It has given rise to many for-profit businesses that benefit the larger community.


Red Hat
,
Canonical
– would the world be better if such companies were forbidden? Would Free Software benefit from a ban on those businesses?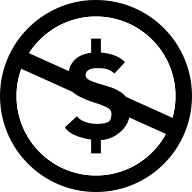 Yet the Cultural ecosystem is stunted by the prevalence of
Non-Commercial restrictions
. These maintain commercial monopolies around works, and – especially for
vocational
artists like me – are functionally as restrictive as unmodified copyright. Yet they are widely mislabeled "Free Culture," or even "
Copyleft
."
This is a still from the mostly excellent and popular documentary
RiP: A Remix Manifesto
. This film is many peoples' introduction to the term "Free Culture" and "Copyleft." But as you can see, the Non-Commercial restriction is lumped in with actual Free license terms.
See that dollar sign with the slash in it? That means
Non-Commercial
restrictions, which are most definitely NOT Copyleft. (I've posted about
Creative Commons' branding confusion
before, but it's only gotten worse since then.)
Free Culture
by Lawrence Lessig its itself not Free culure, but it is widely looked up to. It sets an unfortunate and confusing example with its Non-Commercial license. It illustrates the absence of guiding principles in the Free Culture movement.
I have spoken to many artists who insist there's "no real difference" between Non-Commercial licenses and Free alternatives. Yet these differences are well known and unacceptable in Free Software, for good reason.
Calling Non-Commercial restrictions "Free Culture" neuters what could be an effective movement, if it only had principles.
So what do I want?
I want a PRINCIPLED Free Culture Movement.
I want Free Software people to take Culture seriously. I want a Free Culture movement guided by principles of Freedom, just as the Free Software movement is guided by principles of Freedom. I want a name I can use that means something – the phrase "Free Culture" is increasingly meaningless, as it is often applied to unFree practices, and is also the name of a famous book that is itself encumbered with Non-Commercial restrictions.
I want a Free Culture ecosystem that allows artists to make money. I want anyone to be able to accept money for their work of remixing and building on Culture – just as a trucker can accept money for driving on a road. I want money to be among the many incentives to participate in building culture. Without the freedoms to Tinker and Redistribute without restriction, there is little incentive to build on and improve cultural works. There is little reward to help your neighbor, when you are guaranteed to lose money doing so. "Free Culture" with non-Commercial restrictions will remain a hobby for those with a surplus of time and labor, and those who only accept money from
monopolists
.
I want commerce without monopolies. I want people to understand the difference.
I want a Free Culture ecosystem that includes equivalents of businesses like Red Hat and Canonical. I want cultural businesses that give back to their communities, that work with their customers instead of against them. Only if we refuse to place Non-Commercial and No-Derivatives restrictions on our works will a robust Free Culture ecosystem be able to emerge.
I want the Free Software community – those who currently best understand the Four Freedoms – to champion the rest of Culture, not just Software.
I want Freedom for All.