stories filed under: "art"

from the legal-fictions dept



Stupid, right? But I hear this argument for copyright law all the time.
from the this-could-get-interesting dept
Last year, we wrote about a fascinating (and very long) New Yorker piece by David Grann all about
famed art authenticator, Peter Paul Biro
. What struck us as interesting about the story was the way in which mere claims of "science" can get people to not necessarily explore some details further. Also, it was just a well-written story, and acted as a nice contrast to a documentary (in which Biro appears) called
Who the #$&% Is Jackson Pollock?
. If you have the time, I suggest watching both the movie and reading the story.
I wouldn't have thought much more about it, but we started to notice some odd comments on that original post soon after it went up, with people making rather nasty claims against David Grann. In fact, there were three comments in close proximity to each other, each from different "names" but all having the same IP address, as identified by the little icons next to their names. Even if it was three different people posting from the same router/computer, the fact that they were all so interested in the story seemed curious. It got weirder still when one of them claimed that my headline was defamatory, and then started posting additional claims of other publications being forced to issue corrections or changes to the story. When asked if this person, "Elizabeth" had any direct interest in the story, she denied it, but the singular infatuation with the story certainly raised some questions. We also thought it was interesting that she would accuse us of defamation, when one of the people commenting from her same IP address made
all sorts of very direct, and quite possibly defamatory, claims about David Grann
, including that he was a "drunkard." There was also the hilarious claim that some organization I've never heard of gave The New Yorker (in general) a "70% accuracy rating." I have no idea what that means, but this "Elizabeth" insisted that it meant, definitively, that 30% of every article was made up. Interesting use of statistics.
Either way, it seemed like there was some sort of effort under way, no matter how amateurish, to claim that Grann's article was not at all accurate. And, now we may get to see some actual evidence either way, because Peter Paul Biro
has officially sued Conde Nast and Grann for defamation
.
Biro says Grann's 16,000-word article, "purports to be an in-depth study of the science of forensic examination of art works, and of the use of fingerprint technology to advance that science." But, Biro says, "It is nothing of the sort, but rather a false and defamatory screed against plaintiff, written and published with malice and an indifference to the standards of responsible journalism.

"The article relies to a significant extent on anonymous sources, many of whom are no longer alive, and repeats defamatory statements made by those sources.

"Through selective omission, innuendo and malicious sarcasm, the article paints a portrait of plaintiff which has no bases in reality, and which has been highly damaging to his reputation.

"The intent of the article is apparent from the very subtitle, which implies that plaintiff finds fingerprints where they do not exist, and which represents an editorial attempt to prejudice the reader in advance of the narrative which follows."
I figure this could make for an interesting trial. The bar to proving defamation for a public persona, as Biro clearly is, is pretty high. And despite the claims of "Elizabeth," The New Yorker actually has one of the best reputations around when it comes to fact checking. Perhaps there's something more that will come out during the trial, but I'd guess that it'll be difficult to get the defamation claim to stick.
from the artistic-copying dept
Okay. I'm going to say right from the top that I expect some (not all) photographers are going to read this and get very angry. I'm going to try to explain myself as carefully as possible to make my point clear, because it's
not
what many people are going to jump to a conclusion about. That is, I am
not
saying that photography is not art. I believe that photography absolutely is art -- and it's an artform I love. At one time in my life, I spent more time in a dark room than was healthy (perhaps literally, given some of those chemicals), and even pondered pursuing photography as a career. What I am going to say, however, is that it seems like there's a bit of a double standard when it comes to photographers, copyright and fair use on transformative and/or derivative works.
In the time I spend talking about copyright issues, it's always seemed that it was a certain group of photographers who get much more worked up about these things than anyone else. I very much understand why this is. In many cases, photographers are self-employed, and they've come to believe that copyright is their sole way of making a living (I believe they're wrong on this, but they believe it strongly). So anything that takes away from copyright protections -- including such legally enshrined issues as fair use -- are seen as being serious threats. Again, I think this is somewhat short-sighted and wrong, but I understand where the feelings come from.
We recently wrote about
Andy Baio's legal fight with Jay Maisel
over Baio's use of a pixelated version of Maisel's photograph of Miles Davis that became the iconic album cover for
Kind of Blue
.
When I wrote that, I fully expected that many photographers would come to Maisel's defense, even as much of the internet commentary sided (heavily) with Baio (including some from
photographers
). There were, of course, also some very thoughtful discussions from some photographers, who
disagreed with Baio's fair use analysis
and presented reasonable explanations for why they did not believe his use would be covered as fair use. I disagree with their analysis, and think that the fair use case here is quite strong, but fair use is a funny thing and it very often comes down to the whims of the judge on the case.
However, there is one argument I've seen in numerous places by photographers that strikes me as either incredibly self-unaware, or just downright hypocritical. There were a few such comments on our post about it, such as
this one
that insisted that since you could still recognize the photo, Andy "didn't turn it into something different." Similarly, a photographer by the name of William Beem (and I really don't mean to single out Mr. Beem, but to use his comments as a sample of the general argument)
commented a few times
on a post by Mathew Ingram about this whole affair, again arguing vehemently that there's no fair use here and that Andy "stole" the image. For example, Beem states the following:
Andy took something that wasnít his and he didnít have any license or right to take it. Digital or physical, thatís theft. Your argument that Jay Maisel still has the original is true, so Andy stole a copy. Itís still not his. The image is recognizable as the original. All rights to that image belong with the copyright holder, whether original or duplicated.

Saying that all art is derivative in some way is very nebulous.
It's this form of argument that I find incredibly hypocritical. The whole "took something that wasn't his." What did Baio (or, really, the guy he hired) do? He copied an image that he saw, but did so in a different and artistic way. What did Maisel do to make his photograph: he
copied
the scene of Miles Davis in front of him, but did so in a different and artistic way. It's the same thing any photographer does. Part of the very process of photographing is, literally, making a copy, often without a "license" from whatever it is you're making a copy of. Again, that doesn't make it any less art. In fact, the reason that photographs are considered eligible for copyright protection at all (and some have questioned this) is because of the
artistic choices
in making a photograph: how it was framed, lighting, etc. Yet, in the pixelated image, again, there are similar artistic choices made: how to pixelate the image. How to still make it look good, but within the limitations of the pixelated artform, etc.
Some have, incorrectly, assumed that you could just apply a filter to the original image and get out the pixelated version that Baio used. This is false. You can see, pretty obviously, just from looking at the tie, that the guy who made the pixelated image didn't just Photoshop it, but found a way to recreate the general feel of the original image, but within the artform of pixelated images. You could just as easily argue that Maisel found a way to recreate the general feel of Miles Davis performing, but within the artform of photography. If you don't understand this, you can see if you look at an actual attempt to run a Photoshop filter on Maisel's original, the result is
quite different
. Furthermore, as
David Liu pointed out
, a
scaled down version of an image is quite different than a hand-pixelated image
, and in the case of
Kind of Bloop
, the image was hand-pixelated, using all sorts of artistic choices by the artist.
What I have trouble with is the argument that this is different than photography. In both cases, you have artists who took something that was out there -- something they did not create -- and then turned it into an artform. In Maisel's case, it was taking the real, physical 3D Miles Davis performing, and turning it into a photograph. In Baio's case, it was taking the Maisel photo, and turning it into an 8-bit image in homage to the original.
Photography, by its very nature, starts with simply copying what's on the other side of the lens. Yes, there is more to it on top of that. There are all sorts of artistic choices to be made about
how
to copy. How to frame, how to focus, how to light, how to shade, how to dodge, how to print, etc. That's what makes it an artform. But it's incredibly hypocritical to then decry others similarly making a copy, with similar artistic choices, by somehow claiming that
that
version of copying is "theft." So, photographers, please don't be so quick to decry other artforms that also start with copying, but which also then apply additional artistic choices. If Jay Maisel's photograph of Miles Davis is unique and original artwork (and I believe it is), then so is the cover of Andy Baio's album.
from the tales-from-the-creative-front-lines dept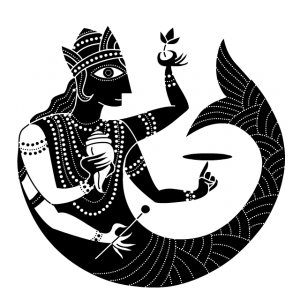 Back in January I was asked by the Brooklyn Museum to create a set of 11 iconic Vishnu avatars for an exhibit they're planning in June. They didn't offer a whole lot of money – an "honorarium," they called it – but said the images could be under a Free license (they said CC-BY-SA was fine). I chose to do it because it was a cool gig, right up my alley; and I love the Brooklyn Museum and was excited to have my art be part of one of their exhibits. It turned out to be more work than I expected, but I was very pleased with the results.
Thus began a comedy of errors, the climax of which may have yet to be reached.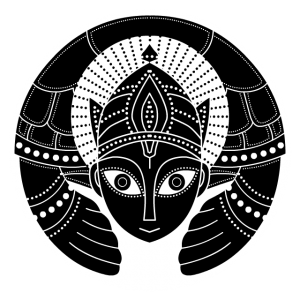 First they wanted revisions. Creating is fun, but revisions are not. For what they were paying, revisions weren't part of the deal. We hadn't signed a contract; they hadn't even mentioned a contract. It was just an oral agreement for a modest sum of money ("honorarium") and because the work would be CopyLeft they could do whatever they wanted with it, including revise and modify.
I hadn't freelanced in years. Sita Sings the Blues took up nearly all my time between 2005 and 2011. I had gained a lot of self confidence during that time and was out of my old freelancer habits. Instead of doing whatever they asked and resenting them for it, I did something I'd never done before: I said no. I made sure to be polite. I consulted trusted friends, examined my motives, and was willing to accept any consequences, including being "fired."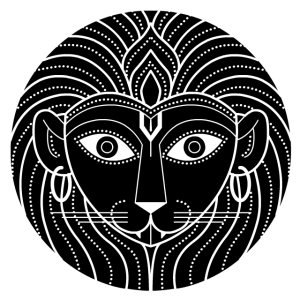 The worst case scenario would be that they wouldn't use the art and wouldn't pay me. I was more concerned about the art than the money. I like money too, of course. The best-case scenario would be that they would use the art and pay me. But if they didn't pay me, I planned to release the art myself, so anyone could use it, including them. They would be free to use the art even if they didn't pay me.
The happy fact is that once I realized saying "no" was an option, any budding resentment at their requests evaporated. They were just trying to get what they wanted, which is what everyone does. It fell on me to set boundaries. It's not wrong to try to get what you want; it's also not wrong to say no.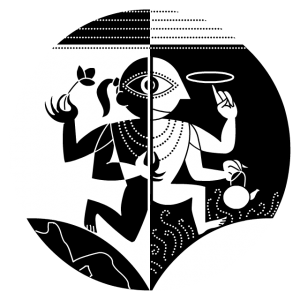 After I said no, they produced a contract – one that I never would have signed, even if they'd ever shown it to me before, which they hadn't. The contract granted them unlimited revisions. Time passed, I politely stated and re-stated that the work was Free, and already completed; they could do whatever they wanted with it, and weren't even legally bound to pay me.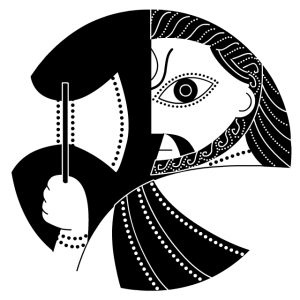 Finally they removed the revisions clause – but added a new non-compete clause. This would make my work Free for everyone in the entire world to use, except me. I told them I couldn't sign it, and they assured me it didn't apply to the drawings I'd done, but anything I might do that would be "similar." They said the non-compete language absolutely had to stay in. I again pointed out the work was done, they had all the image files, and they could do whatever they wanted with it, without a contract and without even paying me.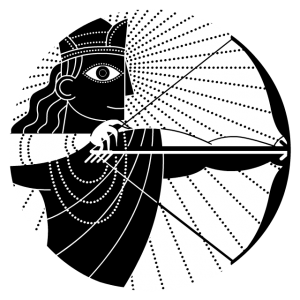 I understand why contracts can be useful: the producer wants assurance of payment, and the payer wants assurance of production. If either party fails to live up to their obligation, the other party can punitively refuse theirs. But I had already done the work. I didn't need a contract to incentivize it. Of course I wanted to be paid, and I thought paying me would be the decent thing to do; but the work was done, and I placed no restrictions on it.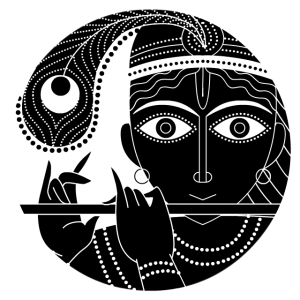 I don't like contracts. They are overused and unnecessary in most cases. Often it takes more time to negotiate a contract than it does to execute the work itself. I agree it is uncool and wrong to promise money and not deliver, but I hope to never work with anyone who can't be trusted to live up to such a simple promise. If they don't, a contract is unlikely to make it better. I'd have to "go legal" on them to enforce it, and unless it's a really huge amount of money they reneged on, I'd have to spend more money and time on the legal enforcement. Art and Law should stay as far away from each other as possible. I manage to get plenty of work done without contracts, and I manage to take in money as well.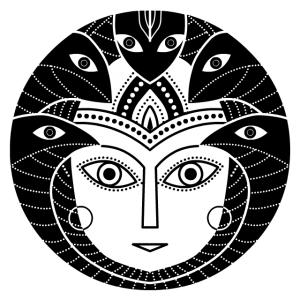 Throughout all of this I refrained from releasing the images myself, so the Brooklyn Museum could have first use. First use bestows such a competitive advantage that copyright is irrelevant. If the Museum rolled out merchandise first, any potential competitors would be unlikely to catch up. The work would immediately be associated with the Museum, before any competitor could associate it with anything else. Any sane contract would have obligated me to grant them first use, but that wasn't in their contract at all, even though the Free license was. Their contract was built on the assumption of copyright, just with a CC-BY-SA license inserted into it. (Law students take note: most lawyers have no clue about the implications of Free licenses. Please try to fix this.) The non-compete clause was pointless, but a first use provision would have been essential for them.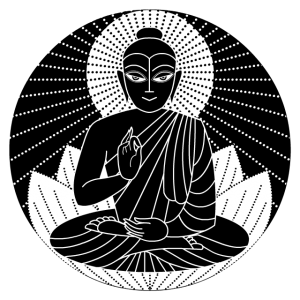 Anyway, time continued to pass, and they finally let me strike out the non-compete clause so I'd just sign the damn contract and make the project digestible to their bureaucracy. So I did, and they paid me! Slightly more than the initially specified "honorarium" too. This was back in March. I've been looking forward to the Vishnu exhibit ever since, eager to finally have my illustrations see the light of day in the glorious setting of the Brooklyn Museum.
The exhibit is set to open in June. It should be really cool! But it won't include my illustrations, because on May 5th they informed me their director wants to "take it in another direction." Yep, they dropped my art, with just a few weeks to go.
I'm really glad that I specified a Free license from the very beginning. If I had granted them a restrictive copyright, then, when they axed the art, no one would be able to use it. So here's yet another benefit to Free Culture: a client can't kill it.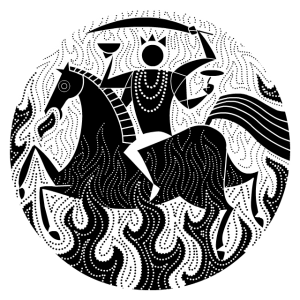 Addendum: As Terry Hancock wrote in the comments on my blog: "in the end, the museum subsidized an enrichment of the commons, for which I am grateful to them." Me too!
All images CC-BY-SA. Click for 640-pixel-square PNGs with transparent backgrounds. High resolution available here.
This article crossposted from ninapaley.com
from the what's-really-new? dept
In our recent discussion on the
ruling against Richard Prince
, saying that his appropriation art is infringing and should be destroyed, I'm seeing a somewhat disturbing response from people who disagree with Prince: they seem to have some mythological idea that for any artwork to matter, it must somehow be "new." I have trouble with this standard for a few separate reasons:
What determines what is really new?
If you look at the history of music, for example, things like the invention of soul music really involved a
very close copy
of works that had come before. There was very little new. Ditto with all kinds of rock music. Led Zeppelin is famous for nearly every famous song they had being a near direct copy from someone else. The changes made were minor, but created massive successes -- showing that people seemed to really like these "copies," even if there was very little new in them. It seems, to me, that clearly something important was "new" in that people liked the copies much more than the originals.
One of the complaints in the discussion on Prince's work is that he "didn't spend much time" in creating his artwork, since he basically started with Cariou's work, tinted it, and added a few minor adjustments. Perhaps that's true, but it seems likely that he spent more time than Cariou did in taking the photograph in the first place. I'm not -- as some accused -- arguing that Cariou's work isn't art. Quite the opposite. I'm saying that the time involved is not a statement of what is and what is not artwork either. After all, Carious quite literally "copied" the scene that he photographed. He gets a copyright on it because of a few creative choices, but these are minor: where to position himself, how to frame the photograph etc. But are those really all that different from Prince's decisions of "how to tint, what to change, what to add?" I can't see how one is art and the other is a copy. It seems like both are art to me, even if I'm not personally impressed by Prince's work.
Does it really matter if the copy isn't really new
?
And here's the bigger point. If people really enjoy those works, why are we so upset that they're copies with minor changes? Ray Charles had success with "I've Got a Woman," despite it really being the same basic song as the Harold Bailey Gospel Singers, called "I've Got a Savior," with just moderately changed lyrics, and a little more pizazz in the music. Led Zeppelin's most classic hit, "Stairway to Heaven," is a pretty close copy the song "Taurus," by Spirit. And Richard Prince's paintings involve just moderate changes to Patrick Cariou's photographs. And, yet, in all three cases, the markets seemed to value the latter versions more. Doesn't that suggest that, even if these newer works are "mostly" copies, that they provide significant value in the marketplace?
Why does it matter that they're not "new" by some subjective standard?
If the world really felt that there was something fundamentally wrong with these copies with minor changes, then wouldn't they have rejected the market for them? Would the world have been a better place if we didn't have "I've Got a Woman," but were just left with "I've Got a Savior," a song so hard to find these days that James Boyle could only find a single copy in existence when he wrote his book which told the story of the song?
Isn't the world actually better off that we have these "copies with marginal changes"? Why do people feel the need to complain about them?
from the freedom-of-expression dept
There was a very big legal ruling last week having to do with copyright in the art world. It involves the artwork of Richard Prince, an appropriation artist, who took some photographs from Patrick Cariou's book
Yes, Rasta
, of various Rastafarians, and then used them in various paintings. There were a bunch of photographs used -- this is the comparison shot that has been used in a lot of the press coverage:
That's Cariou's photo on the left, and Prince's painting on the right. I'll admit that, personally, I'm not that impressed. But I'm really not sure what
my
art criticism should have to do with anything. Yet, many others seem to want to jump in and have their own criticisms of the art determine whether or not this sort of thing should be allowed. And that's troubling from the perspective of letting artists create what moves them, rather than setting up laws over what is and is not allowed to be art.
In this case, despite plenty of other lawsuits that found appropriation art to be legal, the judge
ruled that this is infringing
, leading many to predict a pretty massive shakeup in the modern art world, where this kind of appropriation art has become pretty common. What strikes me as most troubling is that the judge's decision appears to rest mainly on
what the artist's stated intent was in creating these paintings
, and deciding that since he was neither commenting on the original works nor the subjects of the images, it's no longer a protected fair use. That seems questionable. Why should the intent of the artist matter one way or the other? As law professor Peter Friedman notes in the link above:
What was Jackson Pollock's purpose in painting Lavender Mist? Van Goghís in painting The Irises? Havenít we accepted by now the limitations focus on artistic intention would impose on our appreciation of art?
One take away from this is that any time an artist is sued, they should just insist that the artwork they created was "commenting" on the original work, even if it wasn't. But why is that the standard? The fair use standard doesn't say anything about intent, and judging the true intent of an artist seems like a really dangerous game. Some, like Charlie Finch, are pointing out how this is a
dangerous slippery slope
under which judges are determining the value of artwork:
Judge Batts implied a kind of slippery slope by observing that Prince had not cut up or sectioned Cariou's pictures sufficiently, making an observer wonder whether a Mimmo Rotella standard of radical pictorial transformation would be the minimum standard for fair use.

Either way, having a judge as an interpreter of the meaning of art remains Kafkaesque: we can trot out the entire oeuvre of Andy Warhol, Robert Rauschenberg and a thousand other artists as violators of Judge Batts' standard.
The reality is that the judge here seems to have gone beyond what fair use has said in the past, in creating this new standard. As
Greg Allen warns
this is a massive limiting of fair use:
If it stands, it would have major, sweeping, and stifling effects.

Not only would the current operating assumptions of fair use and transformative use be ratcheted way back, but the contemporary art world would be turned upside down. It would restrict both how artists appropriate, or even refer to, copyrighted work. And it would turn galleries into copyright police, with an affirmative responsibility to clear images, sources, and references for the work they show and sell.
That last point is also notable. It wasn't just Prince who was sued, but also the art gallery that displayed his works, which was found guilty of direct infringement for displaying and selling the works, and then
also
found guilty of vicarious and contributory infringement because it "had the right and ability (and perhaps even responsibility) to ensure that Prince obtained licenses." That seems like a pretty big stretch as well.
In the end, I'm sure people will stick up for this ruling because they don't think what Richard Prince did was very good or particularly artistic. Yet, clearly, many in the art world disagree with you, as his paintings sell for extraordinarily high prices. And, in the end, shouldn't that be the determining factor? If people are willing to consider this artwork and pay for it as artwork, then what's the problem? On top of that, it seems like Cariou should have been able to capitalize on this attention himself, increasing the value of his own work.
And... speaking of Cariou's work... one question I have in all of this is how much is Cariou paying the Rastafarians that he photographed? After all, isn't he making use of their works as well? Either way, Prince has made it clear that
he's appealing
and has hired some powerhouse lawyers to help him out. Of course, he had to appeal quickly, because under the original ruling, all of his paintings at issue in this lawsuit were
to be destroyed
.
As a final word, however, I'm going to quote a chunk of
copyright lawyer Ray Dowd's analysis
, in which he worries about what this means for art:
Others are delighted at Prince's discomfiture. I am troubled. Fine art, truly fine art in an art gallery, is a place where a copyrighted work becomes a fetish object, a tribute, a decontextualized thing revealing a new meaning. The urinal of Marcel Duchamp. The Brillo Box of Andy Warhol. Both utilitarian objects made by others and fetishized by the artists.

And look at L.H.O.O.Q. - nothing original in the execution, but the Mona Lisa was in the public domain at the time. Prince is blatantly stealing. Plagiarists take the words of others and try to make you believe that they have crafted them. But Prince's cutouts from advertising, porn and outlaw biker magazines never misled the consumer.

But somewhere, something bothers me about shutting a highly respected fine artist down completely and burning his works when the first sale doctrine would permit him to buy a copy, modify it and resell it. When the First Amendment lets even repulsive speech be heard and the contemporary art world says it is art, I have a problem with the government burning it.

To me, an original work of fine art properly labeled as such by a new artist is almost pure speech - or in some way pure idea - even if it includes major appropriations. Things change when the artwork is widely reproduced. When the consumers are paying tens of thousands for Prince to take something no one is interested in, put his spin on it, and add value. Prince's "appropriation" added ten million dollars worth of value to a pile of books. Everyone knew he didn't create the original.

This is not a question of consumers being defrauded, these are wealthy ultrasophisticates on the cutting edge who are the purchasers - surrounded by the top art advisers and critics -if these people feel that Prince's value added is that great, what is the harm in letting them indulge, as long as Prince legally purchased the original books? In fact, Prince's prices will probably soar - scarcity and scandal drive art prices up.
You should click through to read the entire Dowd piece, which includes multiple images to back up what he has to say. In the end, his point is really the key one: no one is being harmed here. No one is being fooled. Art is a form of speech, and even if you personally don't think much of it, or are upset about how the artist goes about it, is that really something for a court to decide?
In the context of music, we were
just discussing
how an appropriation artist like "Kutiman" was creating new artwork by pulling from YouTube. And, even some of the staunchest copyright defenders in our comments said what he was doing was fine, trying to distinguish his "creative" appropriation with "consumptive" appropriation by others. Well, here's another case of "creative" appropriation. So why isn't it allowed?
from the first-step dept
Paul Tamm points us to a really
wonderful interview with filmmaker Francis Ford Coppola
, which touches on a whole variety of different topics, but a couple of quotes are likely to be interesting to folks around here. For example, he's asked about copying works of other filmmakers and whether or not he tries to "veer away" from the masters of the craft to create his own style, and he responds brilliantly:
I once found a little excerpt from Balzac. He speaks about a young writer who stole some of his prose. The thing that almost made me weep, he said, "I was so happy when this young person took from me." Because that's what we want. We want you to take from us. We want you, at first, to steal from us, because you can't steal. You will take what we give you and you will put it in your own voice and that's how you will find your voice.

And that's how you begin. And then one day someone will steal from you. And Balzac said that in his book: It makes me so happy because it makes me immortal because I know that 200 years from now there will be people doing things that somehow I am part of. So the answer to your question is: Don't worry about whether it's appropriate to borrow or to take or do something like someone you admire because that's only the first step and you have to take the first step.
While (of course), I always dislike the incorrect use of the term "stealing," I found this to be quite an insightful answer from someone who is certainly in a position to pretend otherwise. However, throughout history we've heard similar (if much less eloquent) claims from others. Ray Charles famously made similar points about copying his music (shamelessly) from others to create his own unique sound (and invent soul music in the process).
Immediately after this, he's asked about business models, and he notes:
This idea of Metallica or some rock n' roll singer being rich, that's not necessarily going to happen anymore. Because, as we enter into a new age, maybe art will be free. Maybe the students are right. They should be able to download music and movies. I'm going to be shot for saying this. But who said art has to cost money? And therefore, who says artists have to make money?

In the old days, 200 years ago, if you were a composer, the only way you could make money was to travel with the orchestra and be the conductor, because then you'd be paid as a musician. There was no recording. There were no record royalties. So I would say, "Try to disconnect the idea of cinema with the idea of making a living and money." Because there are ways around it.
While some will misinterpret this to mean that artists
shouldn't
make money, that's not what he's saying at all. He's saying it shouldn't be presumed that they automatically
must
make money -- or that if they are to make money, that it needs to come from the film directly.
from the parody? dept
Earlier this year, you may recall that we wrote about a bizarre and ridiculous lawsuit that luxury goods retailer Louis Vuitton had
filed against Hyundai
, because for a couple of seconds in a Hyundai commercial, a basketball is seen with markings that sorta kinda mimic (though, not exactly) LV's handbag design. This is the same Louis Vuitton that had
sued a fundraiser
who had made t-shirts to raise money for Darfur, which included an illustration of a "pimped out" Darfur victim who was holding a bag that also mimicked LV's designs.
I was reminded of both of these cases recently when I was catching up on recent episodes of the TV show
Mythbusters
. In one episode, the myth being tested is whether or not you can build a cannon out of leather. In the final attempt, Mythbuster Kari Byron decides to "decorate" the cannon, and does so with symbols that, again, mimic the LV design, turning it into a "designer cannon." Unfortunately, it looks like Discovery doesn't let you embed clips (why, Discovery, why?), but here's a quick screen shot that I took:
All I could think of was whether or not (a) Mythbusters/Discovery had cleared that and gotten a license from LVMH or (b) if LVMH was going to sue. I have no idea if anything has happened there, but you can rest assured that LVMH is busy on the legal front elsewhere.
ChurchHatesTucker
points us to the news that LVMH has
shut down an art exhibit
in Japan that involved sculptures of nine locusts, that were each made from counterfeit Louis Vuitton bags:
The sculptures were clearly meant to act as commentary on the nature of luxury brands and counterfeiting, as they were named Batta Mon, which the article linked above says is:
a play on the words batta ("locust") and battamon (slang for "knockoff"). According to the artist, the works are meant to raise questions about the relationship between authenticity and imitation in a consumer-driven society.
It seems like that's a perfectly good subject for commentary through art, and it seems ridiculous that LVMH is stifling the artist's work. Nothing in this exhibit is going to make anyone think that it was endorsed by LVMH. It certainly isn't doing anything to create consumer confusion. The artist is pissed off, but the museum said it didn't want to deal with a legal fight, so this artist's work gets taken down as yet another company abuses trademark law. Watch out,
Mythbusters
, you may be next...
from the I-redraw-the-line dept
Digital artist Aaron Koblin has a fantastic knack for creating innovative, beautiful, fascinating works that merge the worlds of data and technology with art. Using Amazon's Mechanical Turk, he created
The Sheep Market
by commissioning 10,000 online workers each to draw a left-facing sheep.
Ten Thousand Cents
created a representation of a $100 bill, also drawn by 10,000 turkers. Now, he's back with a video project, and is
creating a crowdsourced music video for Johnny Cash's song, "Ain't No Grave."
The Johnny Cash Project
, as it's named, seeks to have every single frame of the music video redrawn by hand. Contributors can take advantage of the tools on the site, which greatly simplify the process of drawing a frame, though it's a little daunting for those with short-attention spans or limited graphical abilities. The drawn frames are then compiled into a constantly evolving version of the
music video
.
For true fans of Johnny Cash, it's a great opportunity for them to connect further with the late artist. And Koblin has put a lot of thought into making watching the video much more compelling and engaging than typical YouTube fare -- viewers can direct the video to use different frames based on a number of dimensions: rating, number of brush strokes, or a number of artistic styles like "realistic" or "dotted." It makes for a very rich experience; I've already watched the video a number of times. As we've said many times before, there are many opportunities for artists of all types to connect with their fans in new and interesting ways. In this case, Koblin's creativity has helped him to tap the imagination of and connect more deeply with his own fans, while also offering something compelling to fans of Johnny Cash's music, potentially expanding the fan base of both artists.
from the arguments-in-the-extreme dept
I've often discussed the
original constitutional reasoning behind patents and copyright law
, specifically the phrase we all know in Article 1, Section 8:
The Congress shall have Power... To promote the Progress of Science and useful Arts, by securing for limited Times to Authors and Inventors the exclusive Right to their respective Writings and Discoveries;
From this, I still believe it's quite clear that if copyright or patents are used in a way that
does not
"promote the progress" of those things, then it is unconstitutional to use copyright or patent law in that way. Not everyone agrees with me, of course. However, I've mostly focused on the "promote the progress" side of things, but haven't delved as much into the details of "science and useful Arts." I have read up extensively on what the founders meant by that, which can be simplified as "science" meaning scientific publishing/books and "useful Arts" meaning inventions. There's also a fair bit of evidence that the real focus of the founders was on patents, rather than copyright. It wasn't that they weren't concerned at all about copyright (they were), but that the bigger issue was patents, and copyright was a sort of "throw in" at the behest of some vocal authors, along with some remembrance of states' fights over local copyright policies. But, on the whole, it was patents that were considered of much more importance to progress than copyrights.
And, not only were copyrights initially for a "limited time" (14-years) but the first federal copyright law in the US limited copyright to books, maps and charts. Tom Bell points out that, based on this, and some other aspects of the early intentions of the founders, you can make an argument that
copyright law, as per the constitution, was never intended for things like art and music
. After all, what does art or music have to do with "science"? And if it really was intended to cover art and music, then why didn't the founders have it cover music that was being composed at the time? Perhaps it was because they realized that music and paintings had nothing to do with science, and the Constitutional clause is only limited to promoting the progress of science and the useful arts (and, again, in the parlance of the day, "useful arts" was inventions). As Bell states:
Here as elsewhere, acquiescence to long-accepted practices has dulled us to the Constitution's bracingly straightforward words. We should read them anew and reflect that the Founding generation did not evidently think that granting statutory privileges to such purely artistic creations as romantic operas or pretty pictures would promote the progress of both science and the useful arts. Furthermore, most citizens today would, if presented with the Constitution's plain language rather than the convoluted arguments of professional jurisprudes, probably say the same thing about pop songs, blockbuster movies, and the like. That is certainly not to say that purely expressive works lack value. They may very well promote such important goals as beauty, truth, and simple amusement. The Constitution requires that copyright promote something else, however--"the Progress of Science and useful Arts"--and a great many works now covered by copyright cannot plausibly claim to do both.
Bell is interpreting the Constitutional clause in an even stricter manner -- suggesting that any work covered by patents or copyright needs to promote
both
progress in science
and
in the useful arts, which is an even higher bar, though I'm not sure I'm convinced it was meant to be both. Also, many would retort that the Constitution grants the Congress the ability to determine if such monopolies promote the progress of science and the useful arts -- and as long as Congress says they do, then we should consider that they do (no matter how wrong they might be). For a variety of reasons, that line of thinking is problematic, but it is the line that the Supreme Court has taken with copyright before (such as in the Eldred case). I'm not necessarily convinced of Bell's thinking here, but it's certainly a point worth pondering (and discussing).