Caution: Prolonged Exposure To Copyright Can Be Hazardous To Human Culture
from the new-gear-from-techdirt dept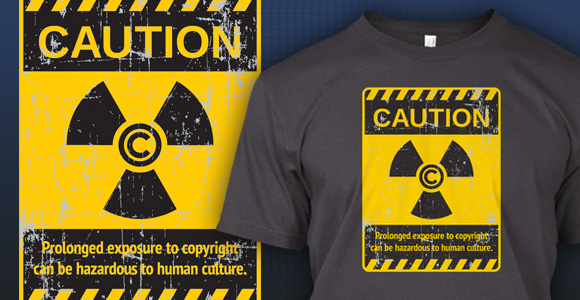 Caution: Copyright gear now available on Teespring »
It's that time again: we've launched another new line of gear on Teespring — Caution: Copyright T-shirts, hoodies, mugs and stickers. I hope the design speaks for itself, though whether it will be as controversial as Copying Is Not Theft remains to be seen...
We're also very happy to announce that shipping from Europe is now available for all Techdirt gear on Teespring! If you visit any of our campaigns with an IP address outside the US, you'll be given the option to choose the EU fulfillment center instead. The product selection and pricing is slightly different, but our friends across the Atlantic should find the shipping much cheaper and faster. If you don't get the option to choose your location, look for the link in the product description on Teespring, because there is sometimes a delay in getting the global campaigns properly linked. (Here's a direct link to the EU version of this new T-shirt, for convenience's sake.)
Check out the Techdirt Gear store for Caution: Copyright and more »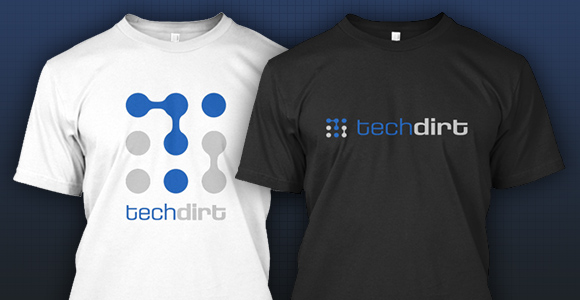 Thank you for reading this Techdirt post. With so many things competing for everyone's attention these days, we really appreciate you giving us your time. We work hard every day to put quality content out there for our community.
Techdirt is one of the few remaining truly independent media outlets. We do not have a giant corporation behind us, and we rely heavily on our community to support us, in an age when advertisers are increasingly uninterested in sponsoring small, independent sites — especially a site like ours that is unwilling to pull punches in its reporting and analysis.
While other websites have resorted to paywalls, registration requirements, and increasingly annoying/intrusive advertising, we have always kept Techdirt open and available to anyone. But in order to continue doing so, we need your support. We offer a variety of ways for our readers to support us, from direct donations to special subscriptions and cool merchandise — and every little bit helps. Thank you.

–The Techdirt Team