Announcing The 2014 Holiday Sale At The Techdirt Insider Shop
from the reason-to-give dept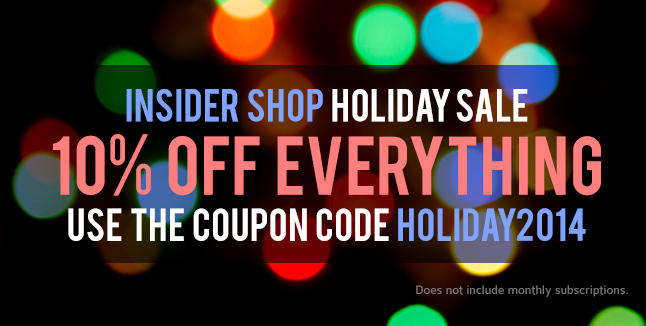 The past couple of years, we've had a special Holiday Bundle over at the Insider Shop, but this year we're trying something a bit different: 10% off everything storewide, with the coupon code HOLIDAY2014.
(Okay, not quite everything: the discount doesn't apply to monthly subscription products. But it does apply to the yearlong subscription specials for Watercooler and Behind The Curtain memberships, as well as the non-recurring one-year Crystal Ball subscription. And remember, all these items can be applied to your own Techdirt account or gifted to someone else.)
We know we're a little bit late getting this out there, but there's still time to order Techdirt gear for Christmas! Domestically, for USPS Standard Shipping, orders made by December 15th (that's next Monday) should arrive in time, and there may be express options available depending on your location. For more detailed information, consult this shipping calendar, and try to order soon just to be safe!

Thank you for reading this Techdirt post. With so many things competing for everyone's attention these days, we really appreciate you giving us your time. We work hard every day to put quality content out there for our community.
Techdirt is one of the few remaining truly independent media outlets. We do not have a giant corporation behind us, and we rely heavily on our community to support us, in an age when advertisers are increasingly uninterested in sponsoring small, independent sites — especially a site like ours that is unwilling to pull punches in its reporting and analysis.
While other websites have resorted to paywalls, registration requirements, and increasingly annoying/intrusive advertising, we have always kept Techdirt open and available to anyone. But in order to continue doing so, we need your support. We offer a variety of ways for our readers to support us, from direct donations to special subscriptions and cool merchandise — and every little bit helps. Thank you.

–The Techdirt Team
Filed Under: christmas, holiday, insider shop, sale