California Court: We Won't Issue A Subpoena To Identify Someone Just To Prove 'Someone Is Wrong On The Internet'
from the anonymous-speech-is-important dept
Two years ago, we wrote about a bizarre legal fight in which Escape Media, the company behind Grooveshark, was trying to force the blog Digital Music News to
unveil an anonymous commenter
who had commented on Grooveshark's ongoing lawsuit with Universal Music. The comment claimed to be from a Grooveshark employee, though it seemed like the typical unsourced, improbable junk you'll often find in certain anonymous comments -- difficult to take seriously. And yet Escape Media issued a subpoena demanding Digital Music News reveal the commenter's information. While I actually thought that Escape Media had a
reasonable
legal argument against the labels, we found this particular effort to unveil an anonymous commenter quite troubling. Similarly, while I often disagree with the opinions written on Digital Music News, I respect Paul Resnikoff, who runs the site, and actually helped put him in touch with Paul Levy from Public Citizen to respond to the subpoena.
A year ago, we were disappointed to see a trial court
side with Grooveshark
and order DMN "preserve" logs that had long ago been deleted in the regular course of DMN running its business. Even worse, the court wanted DMN to hand over its server hard drives for Grooveshark to try to do a forensic analysis of the deleted data to see if it could identify the deleted information about the commenter. DMN appealed the ruling and a California state appeals court
has overturned the original ruling
-- but did so for reasons other than Levy and DMN had suggested.
Levy and DMN had argued, quite reasonably, that the First Amendment barred revealing the anonymous commenter and also that since the data had already been deleted in the regular course of business, that it cannot be required to preserve servers that might possibly have that data hidden somewhere. Instead, the court ruled in a different manner, saying that the commenter's identity could be protected, but because of California's constitutional privacy protections:
Even if Visitor's identifying information was reasonably calculated to lead to admissible evidence, his or her right to privacy under the California Constitution would outweigh Escape's need for the information. "The right to speak anonymously draws its strength from two separate constitutional wellsprings: the First Amendment's freedom of speech and the right of privacy in article I, section 1 of the California Constitution." .... The California Constitution provides that all people have a right of privacy.... This express right is broader than the implied federal right to privacy.... The California privacy right "protects the speech and privacy rights of individuals who wish to promulgate their information and ideas in a public forum while keeping their identities secret," and "limits what courts can compel through civil discovery."
Perhaps even more interesting is that Justice Victoria Chaney appears to
channel XKCD
in pointing out that we can't just go around willy-nilly identifying people online just because you don't like what they say:
Visitor has done nothing more than provide commentary about an ongoing public dispute in a forum that could hardly be more obscure—the busy online comments section of a digital trade newspaper. Such commentary has become ubiquitous on the Internet and is widely perceived to carry no indicium of reliability and little weight. We will not lightly lend the subpoena power of the courts to prove, in essence, that Someone Is Wrong On The Internet.
Well said.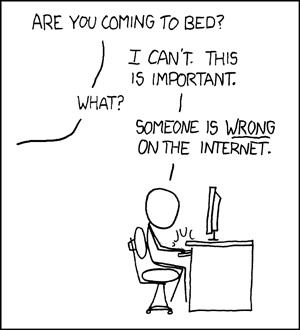 Thank you for reading this Techdirt post. With so many things competing for everyone's attention these days, we really appreciate you giving us your time. We work hard every day to put quality content out there for our community.
Techdirt is one of the few remaining truly independent media outlets. We do not have a giant corporation behind us, and we rely heavily on our community to support us, in an age when advertisers are increasingly uninterested in sponsoring small, independent sites — especially a site like ours that is unwilling to pull punches in its reporting and analysis.
While other websites have resorted to paywalls, registration requirements, and increasingly annoying/intrusive advertising, we have always kept Techdirt open and available to anyone. But in order to continue doing so, we need your support. We offer a variety of ways for our readers to support us, from direct donations to special subscriptions and cool merchandise — and every little bit helps. Thank you.

–The Techdirt Team
Filed Under: anonymity, california, constitution, digital music news, grooveshark, paul resnikoff, privacy, someone is wrong on the internet
Companies: digital music news, escape media, grooveshark