The Scale Of Money
from the spend-a-few-hours dept
No one I know puts "scale" into perspective better than Randall Munroe at xkcd. If you haven't seen the latest, you should take the time to dive into what may be his largest image ever (and he's known for creating large images) dealing with
money
. I warn you, though, it may suck up a lot of time as you go through it: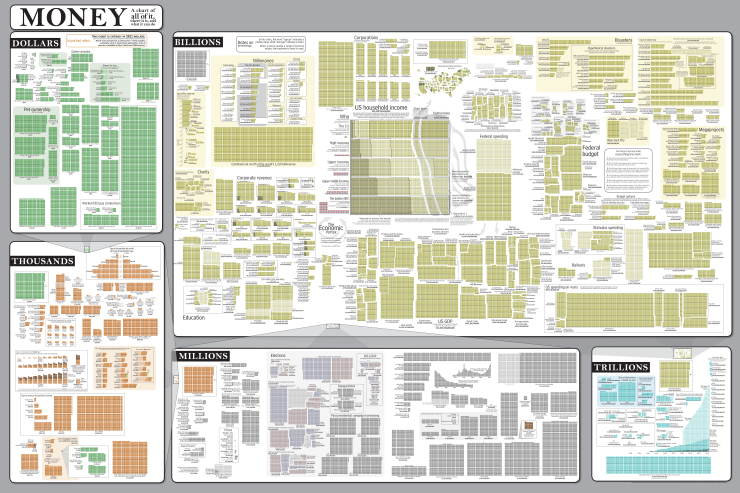 While he's offering a
poster
of it for sale (along with some of his other "giant" images), I'm not sure even a poster does something like this justice, which is why he's also offering it as a "custom-printed four-poster tile pack. It comes as four individual 36"x24" posters which can be tiled on the wall, for a six-foot-wide mural view of the chart, allowing you to clearly read even the finest details." I may have to put that on my holiday wishlist.

Thank you for reading this Techdirt post. With so many things competing for everyone's attention these days, we really appreciate you giving us your time. We work hard every day to put quality content out there for our community.
Techdirt is one of the few remaining truly independent media outlets. We do not have a giant corporation behind us, and we rely heavily on our community to support us, in an age when advertisers are increasingly uninterested in sponsoring small, independent sites — especially a site like ours that is unwilling to pull punches in its reporting and analysis.
While other websites have resorted to paywalls, registration requirements, and increasingly annoying/intrusive advertising, we have always kept Techdirt open and available to anyone. But in order to continue doing so, we need your support. We offer a variety of ways for our readers to support us, from direct donations to special subscriptions and cool merchandise — and every little bit helps. Thank you.

–The Techdirt Team