Sex, Drugs... And Facebook? Moral Panic Police Blaming Social Networks For Kids Being Kids
from the correlation-vs.-causation dept
Ah, the moral panic police are out in force yet again. A recent report from the "National Center on Addiction and Substance Abuse" is getting some attention for a study which claims that teens who spend more time on social networking sites like Facebook
are five times more likely to drink, smoke and take drugs
. The study also found that kids who watch reality shows are also more likely to take drugs as well. And, of course, they seem to automatically assume the causal relationship is in that direction:
"The anything goes, free-for-all world of Internet expression and suggestive television programming that teens are exposed to on a daily basis puts them at increased risk of substance abuse," said Joseph A. Califano, Jr., CASA Columbia's founder and chairman, in a statement.
It seems we have a classic conflation of correlation and causation. You could just as easily suggest that taking drugs, smoking and drinking lead teens to spend more time on Facebook. Or, more likely, it's a third factor. The general type of teen who is more likely to be active on a social network is also more likely to be active in the sort of social activities that teens are involved in -- which (despite some adults' denial) still includes drinking, smoking and taking drugs (sex too, I imagine). But pinning the blame on social networking is silly. I would bet that the same kids probably use text messaging more often. Would CASA also say that text messaging "puts kids at increased risk." Correlation is not causation and since the "National Center on Addiction and Substance Abuse" is based at Columbia University, you'd think that someone there was familiar with this basic concept.
Oh, and...
obligatory xkcd
: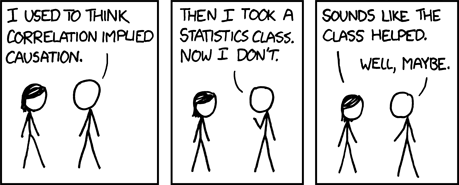 Thank you for reading this Techdirt post. With so many things competing for everyone's attention these days, we really appreciate you giving us your time. We work hard every day to put quality content out there for our community.
Techdirt is one of the few remaining truly independent media outlets. We do not have a giant corporation behind us, and we rely heavily on our community to support us, in an age when advertisers are increasingly uninterested in sponsoring small, independent sites — especially a site like ours that is unwilling to pull punches in its reporting and analysis.
While other websites have resorted to paywalls, registration requirements, and increasingly annoying/intrusive advertising, we have always kept Techdirt open and available to anyone. But in order to continue doing so, we need your support. We offer a variety of ways for our readers to support us, from direct donations to special subscriptions and cool merchandise — and every little bit helps. Thank you.

–The Techdirt Team
Filed Under: drugs, moral panic, social networks
Companies: facebook