YouTube Taking Feature Advice From XKCD
from the ok,-that's-just-awesome dept
While any open online forum has its share of trolls and poorly written comments, YouTube is infamous for having a quality level below pretty much everywhere else. The (absolutely worth reading) online comic strip,
xkcd
ran a strip recently joking about one possible "cure" for this: having a virus written that would
read a YouTuber's comment outloud
before requesting final approval to post it. The idea was that any sane person would recognize how idiotic their comments sounded: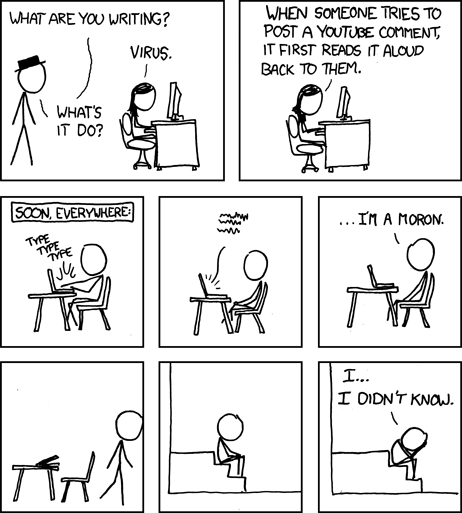 Apparently, the folks at YouTube/Google thought it was such a good idea that
they've actually created just such a button
. Of course, those who need to use it most probably won't do so. At least with the xkcd version, the virus forced people to listen to their comments.

Thank you for reading this Techdirt post. With so many things competing for everyone's attention these days, we really appreciate you giving us your time. We work hard every day to put quality content out there for our community.
Techdirt is one of the few remaining truly independent media outlets. We do not have a giant corporation behind us, and we rely heavily on our community to support us, in an age when advertisers are increasingly uninterested in sponsoring small, independent sites — especially a site like ours that is unwilling to pull punches in its reporting and analysis.
While other websites have resorted to paywalls, registration requirements, and increasingly annoying/intrusive advertising, we have always kept Techdirt open and available to anyone. But in order to continue doing so, we need your support. We offer a variety of ways for our readers to support us, from direct donations to special subscriptions and cool merchandise — and every little bit helps. Thank you.

–The Techdirt Team
Filed Under: audio, comments, features, xkcd
Companies: google, youtube